10 First Aid Kit Supplies You'll Find at Our Pharmacy
April 30, 2023
Everyone should have a first aid kit at home, work, and their car. You never know when an emergency may take place or someone will get hurt. It's better to be safe than sorry! While you can always get a pre-made first aid kit, sometimes you need to replenish things when they're used or replace them if they're expired. Here are 10 first aid kit supplies you can find at our pharmacy.
1. Bandaids
Bandaids are a universal tool in a first aid kit. They come in a variety of sizes and shapes. Their purpose is to cover a cut to prevent infection. If you need a bandage like this, you'll want to put a little antibiotic ointment on the gauze part before you put it over the cut.
2. Sterile Gauze
Sterile gauze is another essential when it comes to first aid kit supplies. This is ideal for larger wounds that bandaids wouldn't cover. You may need to pair gauze with first aid tape.
3. Rolled Bandages
If anyone sprains or strains any part of their body, you'll want to have rolled bandages in your first aid kit. You can roll these bandages to provide compression to the area so it doesn't swell too much.
4. Disposable Gloves
An important part of your first aid kit supplies should be disposable gloves. Someone may need to tend to someone who has an injury, and it's important to wear them as a barrier for bodily fluids and to prevent germs from going into a wound.
5. First Aid Tape
Another important supply you'll want to stock up on is first aid tape. This kind of tape is designed to stick to the skin, unlike other types of tape. It can be used to keep gauze or rolled bandages in place.
6. Alcohol Wipes
There may be times where you need to quickly clean the surface of someone's skin. When you need to do this, you'll want to use alcohol wipes. Most of the time, you can find these in individually wrapped bags.
7. Aspirin
It's a good idea to keep some kind of aspirin in your first aid kit supplies. You never know when someone will have a headache, joint pain, or other type of pain that requires this kind of medicine.
8. Antiseptic Towelettes/Spray
Antiseptic towelettes or spray is a good thing to keep in your first aid kit. This important product is essential for cleaning wound sites to prevent infection.
9. Antibiotic Ointment
Something else you'll want to make sure you have in your first aid kit supplies is antibiotic ointment. Most of the time, people use this ointment before they apply a bandage to prevent infections.
10. Hydrocortisone Ointment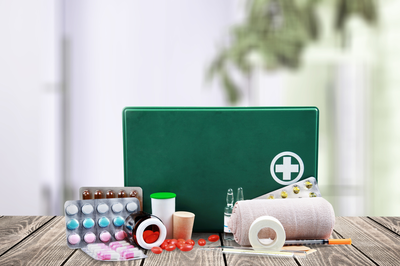 Hydrocortisone ointment is another essential item to pick up and keep in your kit. This product is applied topically to skin that is red, swollen, or itchy. It can be helpful in treating these symptoms, especially ones associated with poison ivy or other skin irritants.
While you can put other kinds of medical supplies in your kit, these are great first aid kit supplies to start off with. Are you putting together a first aid kit or needing to replace items in your kit? Come down to our pharmacy and pick up all your first aid kit needs today!